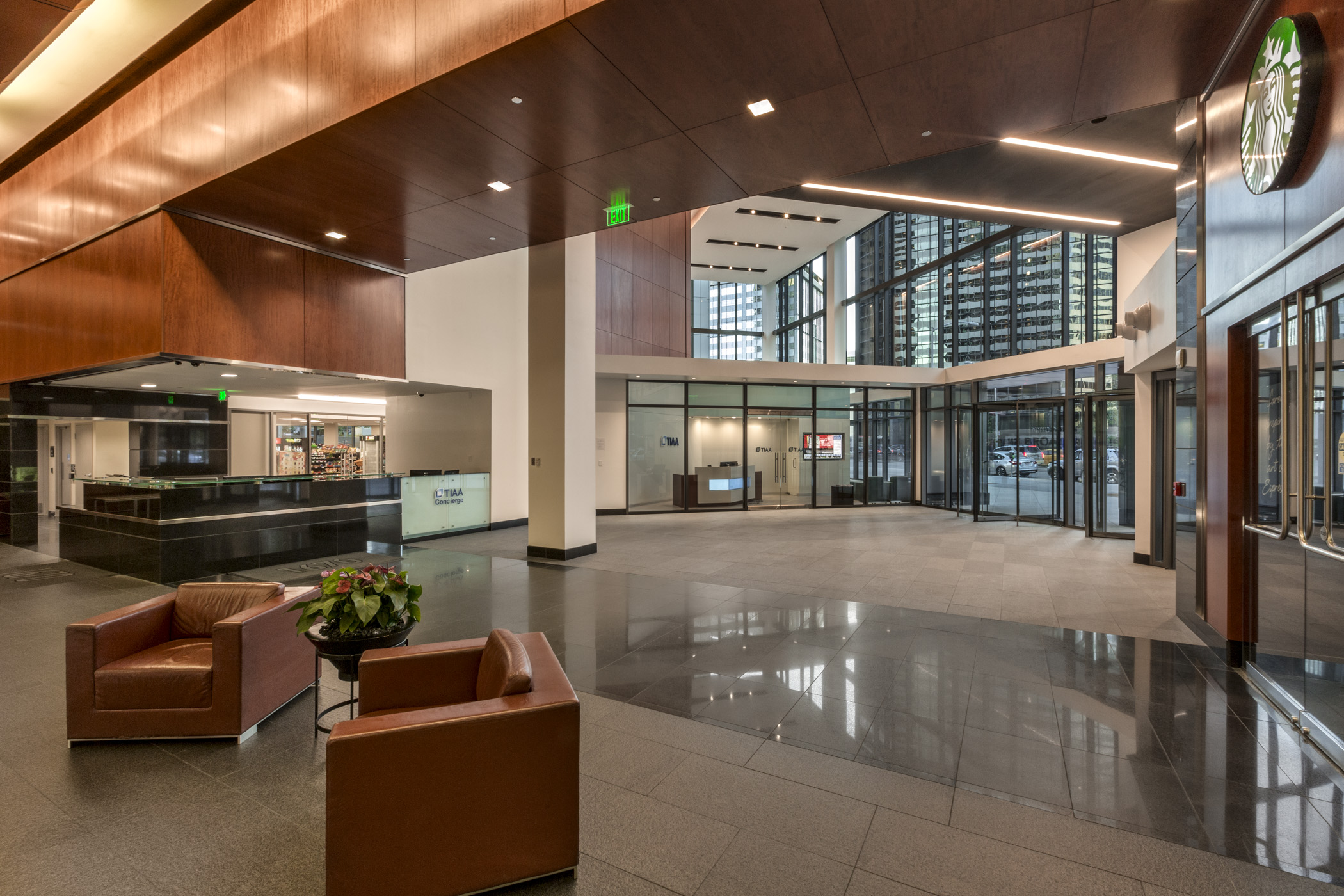 Sustainability
1670 Broadway is a LEED EBO&M Platinum Certified Building. LEED, or Leadership in Energy and Environmental Design, certification provides independent, third-party verification that a building meets the highest performance of sustainability on five key areas of human and environmental health: 
Sustainable site development
Water savings
Energy efficiency
Materials & resources
Indoor environment quality 
1670 Broadway has implemented numerous programs and strategies to increase the building's sustainable performance, which have significantly reduced operational costs and improved water and energy use. Examples of these measures include: 
Continuous commissioning analytics: 1670 Broadway utilizes SkySpark analytic software to perform ongoing commissioning, monitor energy use, and execute proactive maintenance.
Equipment upgrades: With upgraded equipment, 1670 Broadway's engineering team can ensure the building only runs when needed.
Green cleaning: 1670 Broadway requires its janitorial staff and vendors to utilize green cleaning products throughout the building. 
Installing a white roof membrane: The upgraded roof helps deflect solar heat gain, reducing heat transfer to the roof.
Lighting retrofit and recycling: As 1670 Broadway converts to LED lightbulbs, old bulbs are crushed and recycled, diverting mercury in the florescent lamps from the landfill.
Toilet retrofit: 1670 Broadway utilizes water efficiency toilets. 
Further, with the help of its tenants, 1670 Broadway goes "greener" everyday: 
Bike Barn & Bicycle Racks:  1670 Broadway installed an access controlled Bike Barn and covered bike racks in multiple areas of the parking garage for its tenants.
Composting and Recycling Programs: 1670 Broadway's building-wide recycling program allows tenants to recycle any type of paper, aluminum cans, plastics rated 1-7, cardboard and more! Since implementation, the building has diverted on average 45-50% of its trash into recycling each month.
Electronics Recycling: As part of its Earth Day celebration, 1670 Broadway sponsors annual electronics recycling for its tenants.
To read more about 1670 Broadway's energy efficiency measures, click here for a case study conducted by Xcel Energy. 
To learn more about LEED certification, please visit www.usgbc.org/LEED/EB